Die Spielemesse E3 ist ja noch im vollen Gange, auf der Ubisoft Präsentation wurde bereits das neue Assassins Creed Angekündigt, welches auf den Namen Assassins Creed Origins – Dawn of the Creed hört. Wer gerne möchte und zuviel Geld hat, kann bereits jetzt die unglaublich umfangreiche aber mindenst genauso unglaubliche teure Legendary Edition vorbestellen. Der Preis ist Plattform unabhängig, egal ob Ihr PC, PS4 oder Xbox wählt.
Der Reguläre Preis ist 799,99 €, nutzt ihr den Gutschein "PROMO20", kommt ihr auch den verlockenden Preis von 639,99€ … Also wer da nicht zugreift, ist selber Schuld.
Abgesehen davon, dass es schon in die Hose gehen kann, einen Assassins Creed Titel vorzubestellen, da diese ja bekannt sind für Ihre Bugs und Abstürze, ist selbst der "günstigere" Preis von 639,99€ ziemlich unverschämt. Wer zugreifen möchte, findet die Legendary Edition von Assassins Creed Origins Dawn of the Creed im Ubisoft Store.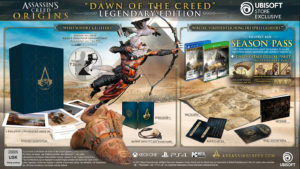 Direktlink : Ubisoft Store